One-On-One Coaching
Coaching is a unique conversation, which catalyzes extraordinary outcomes that are unique to you and important in your life. As your coach, I hold space for you and your story. I believe that you are inherently capable, creative, and whole; I am not here to fix you. Rather, our conversations will elicit your best thinking and decision-making through reflection, self-assessment, self-determined decisions, and action plans, which will empower you to identify and manifest your short- and long-term visions, intentions, and goals. The coaching relationship also provides the container within which you will uncover underlying beliefs, feelings, barriers, patterns, strengths, and so much more. Most importantly, your path forward will be designed by you and driven by your own passions, values, and purpose.
Additionally, I offer a unique framework for coaching and healing that focuses on cultivating self-awareness, self-love, self-trust, and self-expression, which I believe are the essential building blocks of wholeness. When we cultivate these characteristics in ourselves, we create fertile ground for healing of mind, heart, body, and spirit, and this ripples out into our lives and the world.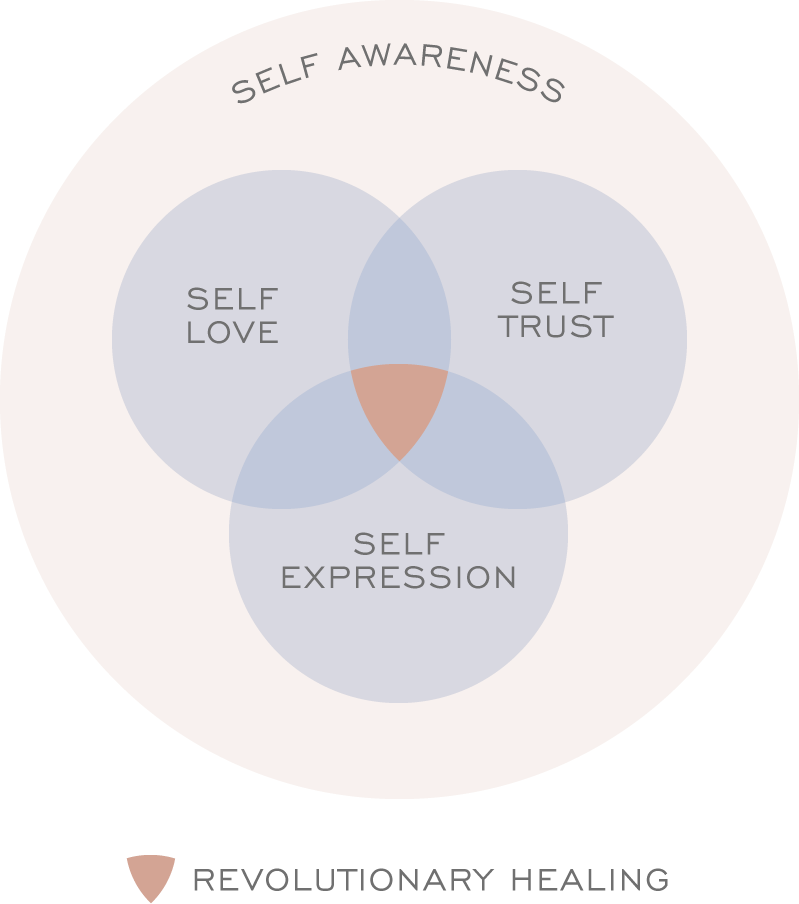 Your one-on-one coaching includes:
An individually tailored session package and schedule.

An introductory workbook that provides a framework for you to reflect, plan, and prepare for our coaching work.

A 90-minute kick-off session (via Zoom or in-person for local clients).

Weekly or bi-weekly 50-minute coaching sessions for the duration of the relationship.

A 90-minute closing session.

E-mail support between sessions.

Individualized readings, information, and exercises where applicable.

Collaboration with other health professionals as needed and upon request.

Whole-Health Mentoring
Whole-health mentoring is often incorporated into coaching; however, it can stand alone as needed. Mentoring, in contrast to coaching, provides specific information, knowledge, and where appropriate, advice regarding holistic health.
While the session structure is similar to coaching, in mentoring we explore in depth each of the foundations of healing and resource ourselves in these areas, including…
Healthy physical environment, including but not limited to exposure to sunlight, time in nature, and toxin elimination.

Adequate nourishment, in the areas of sleep, food, clean water, movement, and intimacy.

Nervous system regulation and trauma healing.

Mitigating underlying infections and optimizing gut health.

Cultivating sense of purpose and connection to spirit/humanity.

Addressing limiting or disempowering thoughts and underlying beliefs, through brain rewiring, mindfulness, meditation, and other modalities.

Strengthening connection to self, others, and community, including establishing and maintaining healthy boundaries and cultivating trust, self-awareness, self-love, and self-expression.

A commitment to self-care, including stress management and lifelong learning.

Complementary and alternative healing modalities and practitioners.

Homeopathic Consultation
I offer trauma-informed homeopathic consultations for women and their families.
If you are interested in a safe, effective, and individualized form of holistic medicine for acute or chronic concerns, please reach out and schedule a free exploratory session.
I believe that our healing is very much in our own hands. While homeopathy and other modalities are powerful healing tools, we must also be engaged in our own process, so that we tend to all aspects of Self – mind, heart, body, and spirit. As such, I highly recommend coaching as an adjunct to the homeopathic consultation, and I offer combination packages for coaching and homeopathy.
*Please note, my website is being updated to include the details and pricing of my partnerships. For now, please e-mail me, and I will send this information to you.
About Homeopathy
Homeopathy is a system of natural medicine that has been in use worldwide for over 200 years. It is recognized by the World Health Organization as the second most widely used therapeutic system in the world. Millions of people benefit from homeopathy for treatment of both acute conditions and chronic illnesses.
Homeopathy is founded on two main principles, the first being 'like cures like.' This means that a substance capable of producing certain symptoms in a healthy person can be used to treat those same symptoms in a case of disease. In homeopathy we trust that the body knows how to heal, and that by using medicines that can stimulate a healing response, we boost the body's own vitality and work with it, instead of against it. Homeopathy is a wonderful adjunct to coaching and other healing modalities, which can catalyze healing in deep and new ways.
The second main principle in homeopathy is that only 'the minimum dose' should be employed. This principle is based upon the understanding that homeopathic medicines are stimuli for healing vital force (qi or chi or life force) and that we need only give enough to produce a response. This ensures that treatment will be as gentle and natural as it is healing and effective.
You can read more about how homeopathy supported my healing from Lyme disease and other chronic symptoms here.
For more information, check out these helpful resources:
The National Center for Homeopathy
British Homeopathic Association
Clinical trials and studies on homeopathy (provided by the Canadian College of Homeopathic Medicine)