Reading Time:
10
minutes
I muted myself last week on social media, inspired by Jessica Wilson and Alishia McCullough's Amplify Melanated Voices movement. I paused and invested more time in listening, learning, and taking action. I invite you to read my blog thoughts (at the bottom of this page) AFTER you look through this list of resources and, if you haven't already, pick a few Black men and women to learn from and listen to right now. Their voices are more impactful and important than my own in this work. I've first highlighted the voices and resources that I've already been following. Below that I've included a list of other people and groups that I still want to learn from. You can also explore my saved Instagram stories for more antiracism resources and Black voices.
*These lists are by no means comprehensive. Please feel free to add more in the comments. White women and men: if you decide to follow and learn from the Black women and men I've listed, please don't ask them for free guidance, information, or resources. Buy their books and courses, and support their accounts financially for the information they're already providing.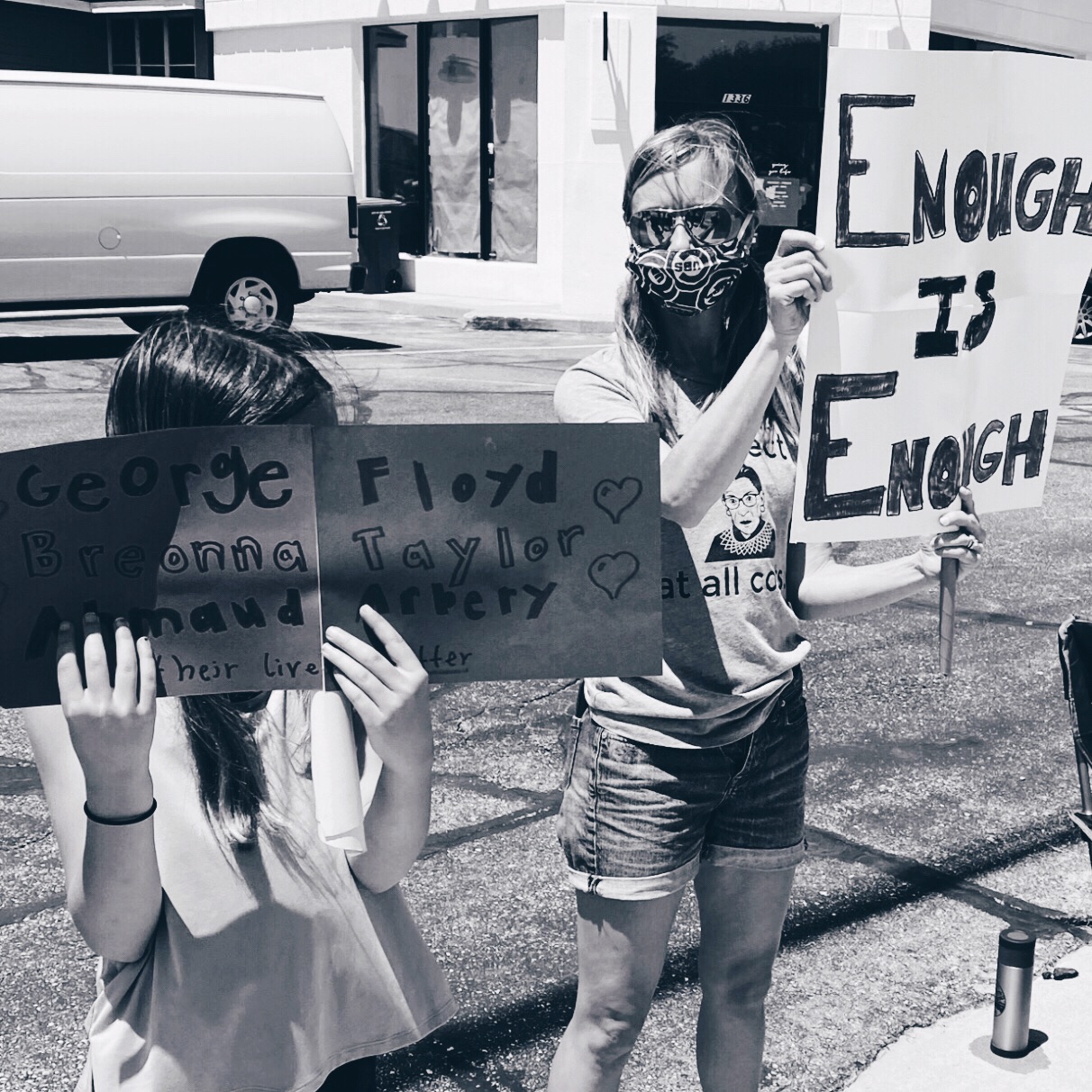 BOOKS
Me and White Supremacy by Layla F. Saad
How to Be an Antiracist by Ibram X. Kendi
So You Want to Talk About Race by Ijeoma Oluo
My Grandmother's Hands: Racialized Trauma and the Pathway to Mending Our Hearts and Bodies by Resmaa Menakem
I'm Still Here: Black Dignity in a World Made for Whiteness by Austin Channing Brown
Sister Outsider Essays and Speeches by Audre Lorde
The Fire Next Time by James Baldwin
Black Feminist Thought: Knowledge, Consciousness, and the Politics of Empowerment by Patricia Hill Collins
Eloquent Rage: A Black Feminist Discovers Her Superpower by Brittney Cooper
I Know Why the Caged Bird Sings by Maya Angelou
The Bluest Eye by Toni Morrison
CHILDREN'S BOOKS
Let's Talk About Race by Julius Lester
Thirteen Ways of Looking at a Black Boy by Tony Medina
Little Leaders: Bold Women in Black History by Vashti Harrison
Malcolm Little: The Boy Who Grew Up to Become Malcolm X by Ilyasah Shabazz
Let it Shine: Stories of Black Women Freedom Fighters by Andrea Davis Pinkney
Voice of Freedom: Fannie Lou Hamer, The Spirit of the Civil Rights Movement by Carole Boston Weatherford
PODCASTS AND MOVIES
Pod Save the People
About Race
Seeing White
Pod for the Cause
13th
When They See Us
I Am Not Your Negro
Fruitvale Station
If Beale Street Could Talk
Just Mercy
Selma
The Hate U Give
Racism is a Public Health Issue
While I've been listening to and learning from Black voices more since joining Instagram a few years ago, I admit that it rarely translated into consistent action. Despite my education in public health—which illuminated the correlations between privilege, race, and health outcomes—it took a much deeper dive into the nuances of white fragility, white body supremacy, and racialized trauma to see how I've been unwittingly contributing to the epidemic of racism in this country. Not being racist did not make me antiracist. And I'm learning there is a big difference.
So I'll be diving deep with more intentionality from now on, because antiracism work is not something to binge on now and abandon later. It's a healthy lifestyle that we must adopt for the duration. When we choose this lifestyle with our words, our thoughts, and our actions, we invest in the systems that support Black lives and divest in the systems that uphold racism. And we must choose this lifestyle again and again and again.
In January of this year, I wrote a piece for The Brick Magazine titled Our Collective Health. As I look back on it now, I'm inspired to keep going in the directions I suggested, AND I'm aware of a critical sentiment I fail to mention in the article. I talk about privilege, but what I don't explicitly say is this: racism is a public health issue. I'm realizing that an antiracist lifestyle must be an integral part of my work if I am to fulfill my aim of catalyzing revolutionary healing for all women. If it's not clear for you why this is true, then those resources I offer above are even more critical to access and learn from.
What Will You Do?
I'm learning alongside you what it means to be actively antiracist, and I'm making mistakes that I must correct as I go. And, I'll keep going, because that is how we become better and do better as co-conspirators. We must make the internal shifts that support our external actions; performance activism doesn't cut it. We (white men and women) must go deep and shift our long-held, often unconscious, beliefs and narratives that uphold white body supremacy. This is good for public and personal health.
So, pick one thing to read or do each day, each week, each month. Practice growing in your self-awareness so you can see your beliefs, biases, and patterns more clearly. Find out where there is need and check in with yourself about where your skills, resources, and passion align with those needs. Go there. As with healing, there is no right way. You don't have to do it all. But we all must do something.