Reading Time:
8
minutes
There are so many ways to introduce this blog post, so many things to say about WHY this post is important. I'll keep it short and simple, though, so that you can invest your time in getting to know these womxn—my sisters in healing—who I'm inspired by right now.
My inner fire ignites when I'm connecting with womxn who are committed to authenticity, growth, and healing. I know that, while my healing begins within me, it expands in relationship with others. We need each other on our healing journeys. One of the magical things about these healing connections is that they are rarely one-way. Whether we're seeking support or offering it, we learn and heal through our connections.
Know this list is not exhaustive. Some of these womxn I know personally, some are acquaintances, and others I know through their work alone.
My request: leave a comment here with a womxn you're inspired by right now, too. I want to know more of us who are alchemizing our magic and medicine for collective healing.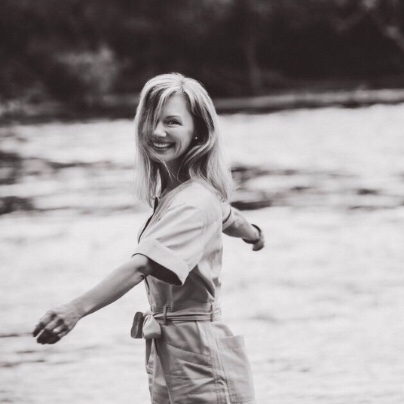 This smile, the one on the main page of my website, is the smile I feel in my body when I'm learning from, connecting with, and exploring healing with other women.
P.S. After I wrote a bit about each of these womxn I marveled even more at what (and how) we womxn are collectively creating right now. I'm honored to know each of these womxn and/or their work. And I'm honored to be creating a culture of awareness and healing alongside them and so many others. I'm feeling deeply grateful.
Womxn to Know
Karine Bell
Karine is a trauma therapist, somatic educator & abolitionist working to help parents to heal from cycles of trauma. She also facilitates online shared learning experiences for all types of people through the embodied trauma conference™ and rooted™.
I first connected with Karine's work on Insight Timer when I began learning about Somatic Experiencing and seeking tools to support my own somatic practices (definitely check out the somatic practice linked up here…I return to it regularly). I then joined her online year-long book and body study of Resmaa Menakem's My Grandmother's Hands. The community and healing she cultivates are remarkable and impactful for me and so many others.
Kyunghee Chen
Kyunghee is a writer, poet, storyteller, meditation and yoga teacher, and now self-care coach (be sure to check out both of her sites)!
Kyunghee and I connected serendipitously over a year ago, and I've admired and been inspired by her words ever since. Her posts are ones I seek on Instagram for their authenticity and thoughtful inspiration.
Karlee Fain
Karlee is an author, speaker, coach and podcast wonder who offers nourishment for the Soul of a Womxn's career.
I know Karlee through social media alone, and yet, I feel like if we met for tea it'd be like meeting an old friend. I'm so grateful for our connection and her energy that always inspires new thinking, reflection, and meaning-making through her posts and her podcast, Messy and Magnificent. She challenges me in the best ways.
Paula Jeffrey
Paula nourishes authenticity through the transformational power of Hypnotherapy and Human Design so you can heal and thrive in a life that is yours.
Paula and I met through social media, too, via a shared interest in homeopathy and healing. After one zoom chat, we scheduled more, and now I'm honored to be nurturing a friendship and cultivating healing together. I experienced a Human Design session with her recently, and I'm still amazed by it. Her work is truly transformational.
Cathleen King
Cathleen brings her doctoral level training as a physical therapist together with her multidimensional personal healing experience to educate and awaken others into primal trust through her courses and coaching.
I've known Cathleen for over two decades (well before we were healing sisters, we were sorority sisters at a small liberal arts college in Michigan)! She and I reconnected while healing through chronic Lyme disease (together), and our paths have been resonating ever since. She is knowledgeable, intuitive, and always inspiring me with new ideas and thoughts. Her many offerings are true gifts for healing.
Kate Northrup
Kate teaches you how to have more time and make more money while feeling less stress through data and soul driven feminine time and energy management practices. (And she does so much more).
I don't know Kate personally, but I wish I did! While her "body first, business second" philosophy has inspired me as I grow my own business, her authenticity and willingness to show up have inspired me even more. Her Do Less Planner is open on my desk, and I welcome her candid, thoughtful e-mails that get me thinking about how I'm showing up in my work and in my life.
Milagros Phillips
Milagros works with diverse groups to facilitate race literacy programs that inform, transform, and lead to inspired action.
I was introduced to Milagros on Instagram via Kate Northrup (above). I attended one of Milagros' recent online workshops and felt inspired by her healing energy, her awareness, and her insights. I found myself scribbling notes frantically, because I had so many take-aways from the session. I look forward to learning more from her.
Karina Maria Tibble
Karina Maria offers transformational support for women's wild and feminine spirit. She is a bilingual counselor, mindfulness meditation instructor, and women's group facilitator.
Karina Maria is a friend and colleague who is a doula for the divine feminine within us. Her presence is absolutely magical and nourishing, and I cannot say enough about her unparalleled gifts. She inspires me to connect with the Goddess within and has given me tools for how to do this when I felt stuck. Her new offering, Wild Nourishment, is one I hope to join someday…it promises to be transformational.
Holly Whitaker
Holly is the founder and CEO of Tempest (sobriety school) and the author of Quit Like a Woman (among many other things).
I've been reading Holly's book and am so inspired by her story and her framework for healing. (By the way, her book is not just for drinkers or "alcoholics"). I'm always exploring my relationships, especially the one with myself, and I appreciate that Holly's approach to becoming a non-drinker acknowledges the role of patriarchy in that relationship and its subsequent impact on our relationship with all things (alcohol in particular).